Lineman is a dangerous and high-demanding work, It deserves highest level protection from lineman contracting company.
Power line insulator is a critical component in overhead electrical transmission systems.
Using proper grounded practice,wearing proper insulating uniforms and gloves and keeping the work site safe are three basic ways to keep lineman safety in work site.
In our former article, we have already talked about some topics related to renewable energy, and current news in fossil fuel energy, oil as we all as energy security and how to choose power line hardware, power line fittings to fulfill your power and utility needs.
TTF Power manufactures and supplies electrical insulator for overhead power transmission and distribution systems. Insulators are devices used on the overhead transmission lines to prevent electric current from flowing to the unwanted areas in the transmission lines. The material used to make the insulators is resistant to both the electrical current and the other weather conditions which promotes long life of the devices. The insulators are mainly used to protect the conductors and the semiconductors from the excess voltages in the transmission lines.
Today, we are going to talk about how to protect lineman safety during power transmission line maintenance.
Transmission Line
In an electric power system, transmission lines move electric energy from one location to another. They can transport direct current, alternating current, or a system that combines both. Additionally, overhead or subsurface wires can both carry electric current.
Grounded Practice: Proper Inspection of Grounds and Jumpers
Although the ground and jumper wires used by linemen appear to be made to endure forever, appearances can be deceiving. They are often disregarded and are thrown into the truck, dropped in the mud, left hanging in the rain, etc. We begin to take them for granted as a result of regular use. Also, as time goes on, the wear and tear worsens, jeopardizing both mechanical and electrical dependability. Because of this, it's crucial to take good care of your jumpers and grounds and to test them frequently.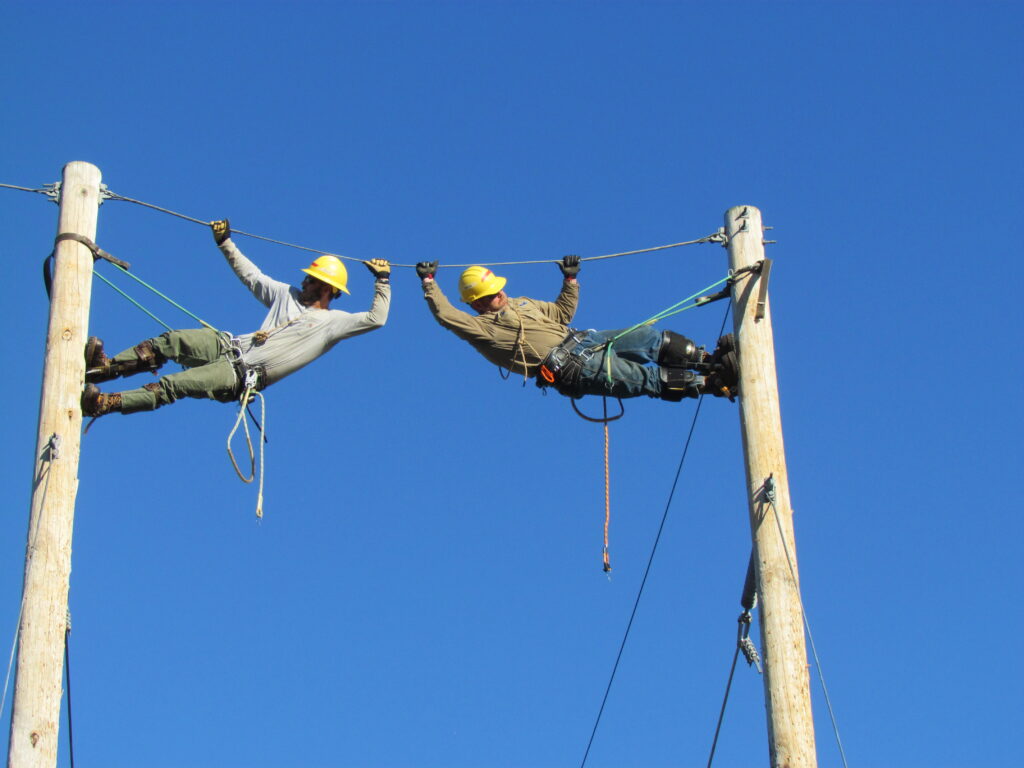 Grounds
Grounds are fundamental links that add to your own defensive grounding gear. Prior to chipping away at a de-empowered powerline, a grounding link is joined to the guides. If, for reasons unknown, the circuit out of nowhere recharges, the grounding links will assist with diverting the risky current to ground.
A recharged powerline circuit can and occurs for various reasons, like human blunder, static development, put away charges, and then some. Furthermore, with the higher loads and power ability of our electrical matrix nowadays, you would rather not take any risks. Utilize just very much assembled and all around kept up with individual defensive grounding gear.
Jumpers
Brief mechanical jumpers are gadgets used to convey electric supply circuits constantly for a brief timeframe. These cables are protected to safeguard the lineman from risky voltages while playing out their work.
Fall Protection Body Wear:
Body wear is the individual fall security gear worn by a laborer at level. A full-body saddle is the main satisfactory type of body wear for fall capture applications. That is on the grounds that a full body tackle circulates fall capture powers across the shoulders, thighs, and pelvis. They likewise have a middle back fall capture connection to interface with the fall capture interfacing gadget and may try and remember extra D-Rings for use for specialist situating, fall counteraction, or suspension.
Keep the Lineman and His Work Site Safe
Line-construction project workers can give their all to prepare the administration, offer security preparing and hardware and trust the foremen who are delegated to a task, however it is an intrinsically hazardous business.
Maintenance of electrical lineman tools
Use and upkeep of protected apparatuses are past the extent of the current norms and determinations. You ought to use protected apparatuses for their expected applications just; for instance, screwdrivers ought not be used to pry or etch. You ought to never change or modify a device from its unique plan. For example, scaling back the protection on an attachment for use in restricted spaces could as a matter of fact open the laborer to injury.
The usage of Rubber insulating gloves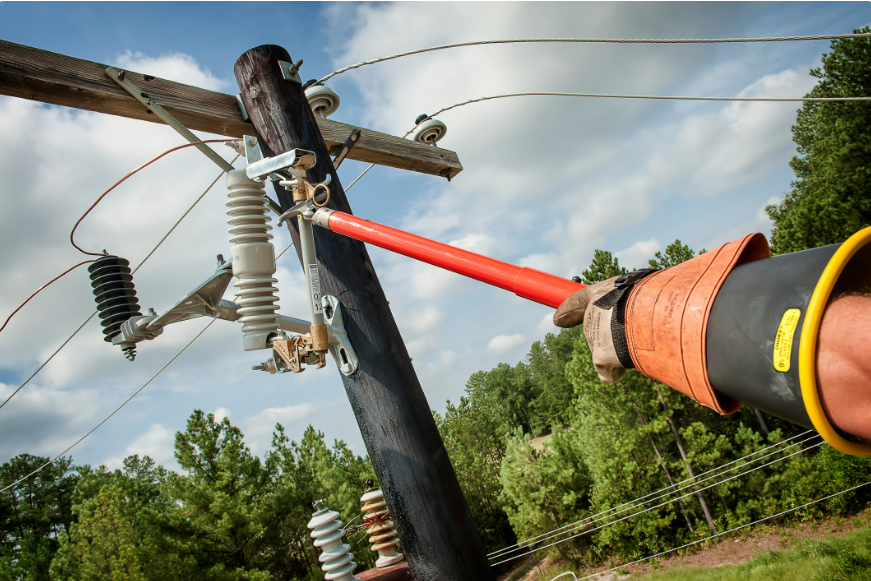 Elastic protecting gloves are among the main articles of individual insurance for electrical specialists. To be viable, the gloves should consolidate high dielectric and actual strength, alongside adaptability and sturdiness. For prevalent execution they ought to meet and additionally surpass the prerequisites of current American Culture for Testing and Materials (ASTM) D120 details. Gloves ought to likewise be electrically tried following ASTM D120/IEC903 particulars.
Rubber Insulating gloves framework:
Elastic Protecting Gloves: Arranged by the degree of voltage and assurance they give.
Liner Gloves: Are used to diminish the distress of wearing elastic protecting gloves in all seasons, for all year use.
Liners: give warmth in chilly climate, while they assimilate sweat in the warm months. These can have a straight sleeve or sew wrist.
Cowhide Defender Gloves: Ought to continuously be worn over elastic protecting gloves to give the mechanical assurance required against cuts, scraped spots and penetrates. Search for those that are steam pushed on bended hand structures to guarantee appropriate fit over elastic gloves.
The classification of Rubber Insulating gloves:
Representatives who work in closeness to live electrical flow might require an assortment of electrically protecting defensive gear. The Word related Security and Wellbeing Organization (OSHA) outlines this in their Electrical Defensive Hardware Standard (29 CFR 1910.137) which gives the plan prerequisites and in-administration care and use necessities for electrical protecting gloves and sleeves as well as protecting covers, matting, covers and line hoses. Electrical-defensive gloves are arranged by the degree of voltage assurance they give and whether they're impervious to ozone. Voltage insurance is separated into the accompanying classes:
For gloves, ozone obstruction is covered by the "Type" assignment. A Sort I glove isn't ozone-safe, while a Kind II is ozone-safe. When the gloves have been given, that's what OSHA requires "defensive gear will be kept up with in a protected, solid condition". This expects that gloves be examined for any harm before every day's use. Gloves should likewise be reviewed quickly following any episode that might have caused harm. OSHA requires that protecting gloves be given an air test alongside the review.
OSHA requires air testing, yet doesn't clear up how for play out the test. The test strategy is portrayed in ASTM F 496, Determination for In-Administration Care of Protecting Gloves and Sleeves. Fundamentally, the glove is loaded up with air, either physically or by an inflator, and afterward checked for spillage. The spillage is distinguished by one or the other tuning in for getting away from air or holding the glove against the analyzer's cheek to feel air delivering.
FAQs
Why is important to protect lineman safety
Lineman is a dangerous and high-demanding work, It deserves highest level protection from lineman contracting company.
What is electrical insulator?
Power line insulator is a critical component in overhead electrical transmission systems. They prevent electric current leakage from the overhead conductors on power towers, poles, or other structures to the surroundings. Our insulator products include corona ring, pin insulator, post insulator, shackle insulator, stay insulator, suspension insulator and more.
What should we do to ensure the safety of lineman?
Use proper grounded practice,wear proper insulating uniforms and gloves, keep the work site safe.