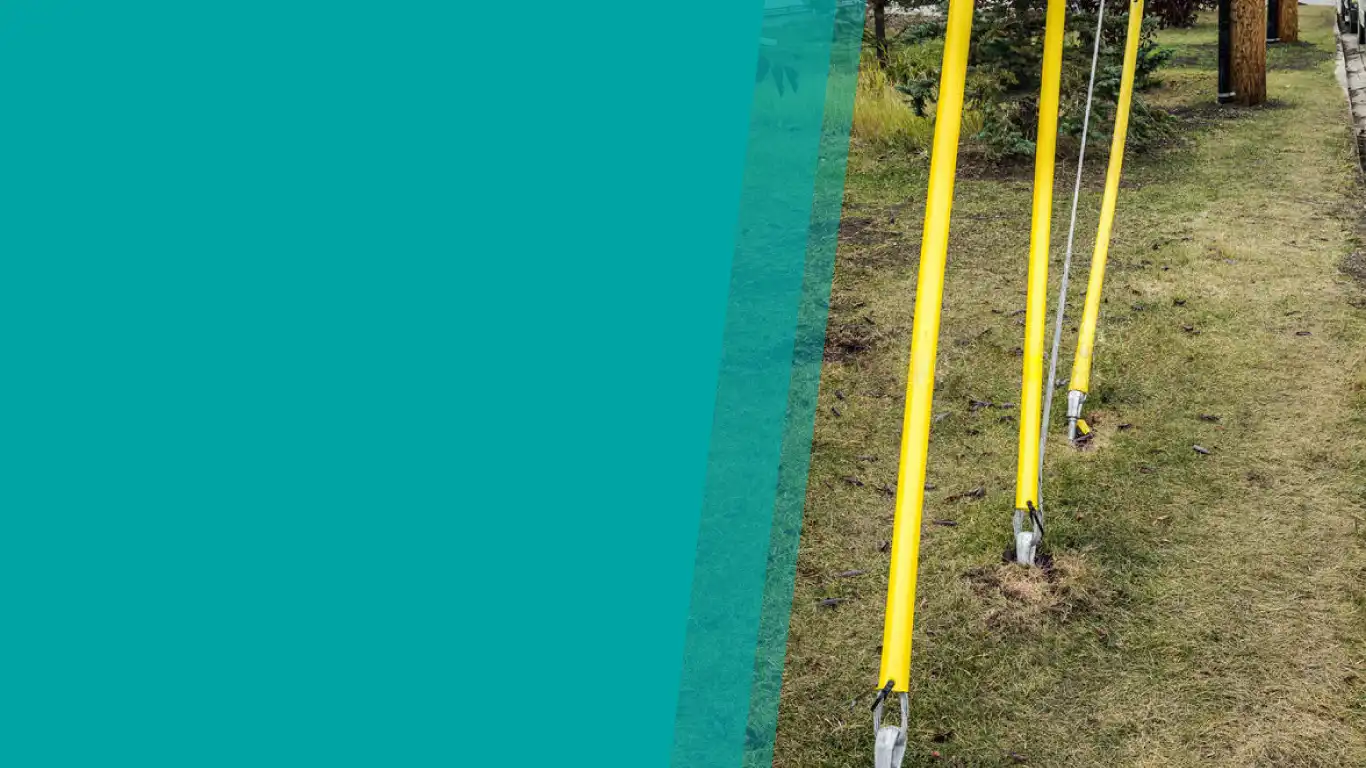 Utility Pole Ground Anchor
Ground Anchor Manufacturer
TTF Power manufactures and supplies heavy duty ground anchor for overhead power distribution systems. Our ground anchors are also known as earth anchors, ground spiral anchor, guy wire anchor or galvanized earth anchors and are devices that are used to hold, confine and support buildings and other high standing structures either temporarily or permanently. They help to reduce the vertical movement of structures and thus stabilizing them.
They can be injected directly into the ground at an elevated angle from the main pole or building in order to prevent any movement. The ground anchor is a system proficient of transforming a tensile load into a capable layer, gaining support from the structure to be anchored. They are commonly used to prevent distortion of a retentive wall after excavation.
Components of ground anchor
The anchor has many different parts that are each useful in one way or another. These include:
The head – this is used for transferring the anchor strength to the structure through a bearing plate.
Length of ligament which is from the head to the near fringe of the bond length.
The bond length through which the tensile force is transferred to the surrounding ground through a bond grout.
Families of ground anchor
The grounding anchors are also categorized into families according to how and where they are used. They are:
Passive families – these are the anchors that do not usually have a free length. The anchor comprises of a steel bar or is sometimes made of combined material. A passive anchor is only tensioned by the structure itself applying load to it.
Active families – these are the types of anchors that have free length and a bond length. It is made of steel cables and pre-tensioned to reduce the movement of the structure.
Types of ground anchor
The ground screw anchors are of many types categorized according to their use and applications. These include:
No wrench screw anchor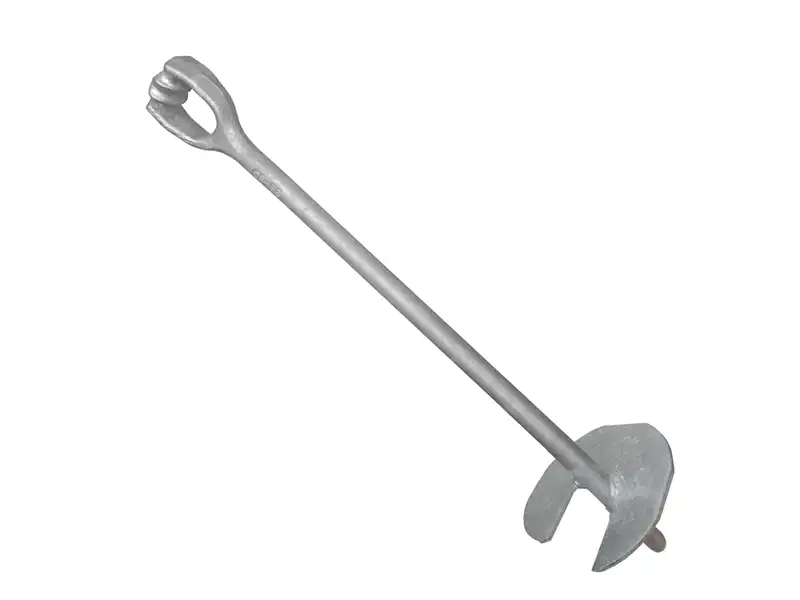 This is a type of guy wire earth anchor that operates by guying cables or wires within utility poles, which is composed of an angle-cut tip, welded helix and an anchor rod of forged eye. They have some specific features that help when purchasing in order to get the right anchor for your intended purpose.
Features of the no wrench screw anchor
It is suitable for hand or machine installation.
It is made up of hot dip galvanized material to prevent corrosion.
It is a basic forged eye with a helix welded to the shaft.
It is a triple guy wire.
Cross plate anchor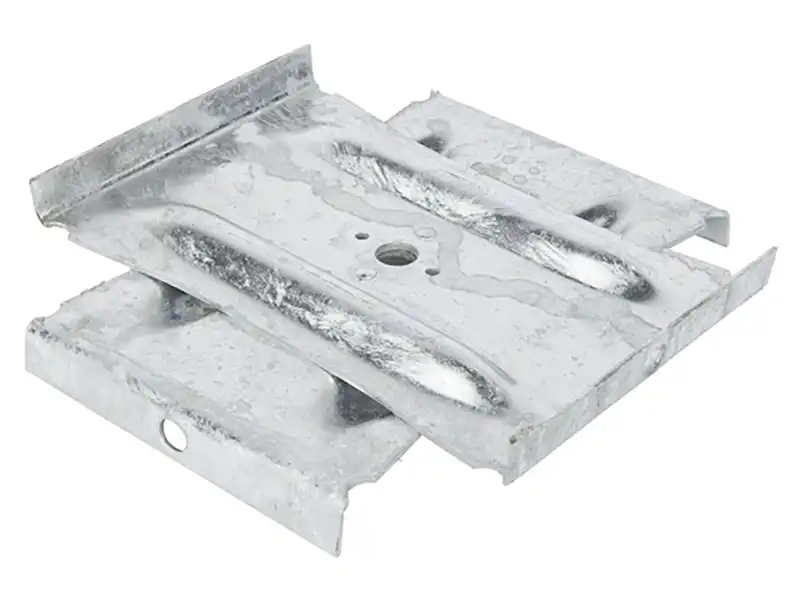 This is a type of galvanized ground anchor that is used to provide stability and support to several human-made and natural constructions. They are formed of two structural plates shaped for strengthening to support and hold the nut from the forged eye rod.
Features of the cross plate anchor
They are made of hot dip galvanized steel with an in-built nut retainer.
It is a one-piece design with vaulted plate rims and corrugated anchor plates.
They are highly suitable for a range of soil classes treated for rust inhibitors.
They are specialized in making holes boded by power drills.
Manta-Ray anchor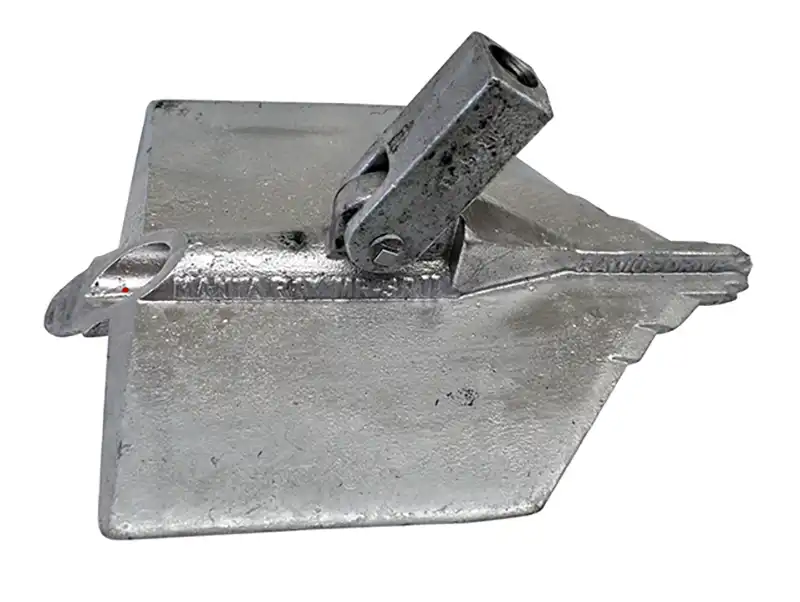 This is a tension utility anchor that is intended to be driven directly into the earth, it completely dispenses with the stress and pressure of digging and drilling holes. It provides a very fast, efficient, safe and easy solution to a range of anchoring needs. It can be used over a range of soil types which include glacial till, caliche and eroding rock. It is also designed to be used with secure anchor rods, fiber washers and cap nuts. It can be used in telecom, construction and utility industries.
Features of the Manta-Ray anchor
It is fast and easy to install.
It is made from hot dip galvanized material to protect from rust and corrosion.
It has a simple locking system that saves up on installation time.
It has an excellent load capacity to support any kind of structure or building.
It does not cause any harm to the environment.
It does not require any digging or grouting.
It is variable in length to be used over long or short distances.
Applications of the ground anchors
The galvanized grounding anchors can be used in a variety of fields and industries due to the benefits provided for holding the loads in power poles, buildings and other structures. These anchors can be used in areas such as:
Erosion control measures used to retain walls from falling or sliding.
They are used as structural support for the temporary buildings and structures.
They are used in the marine industry to support the marine structures such as the floating docks and pipelines.
They are also used in utility poles for telecommunications and power transmission.
They are also used in the sporting activities such as slack-lining and abseiling.
They can be used in drainage systems for restraining capabilities.
Ground anchor installation

The installation of the earth anchor may differ according to the situation such as drive rods, spiral sockets and impact hammers which are commonly used to push or screw the anchor into the ground. Drilling for the installation may depend on the conditions of the ground upon which it will be installed.
The best performance of the anchors is reliant on on the size of the anchor, crop angle of the soil, depth of the installation and the load applied to the anchor. All these factors must be considered when purchasing the grounding anchors in order to get the best performance from them. The types of earth anchors according to the installations are as below.
Straight shaft gravity-grouted ground anchors
These are usually installed on a rock and very rigid to firm cohesive soil deposits using either drilling or auger methods.
Straight shaft pressure-grouted anchors
These are the anchors that are most suitable for abrasive granular soils and weak fissured rock. They are also used in grained cohesion less soils. The grout is inserted into the bond zone under high pressures.
Post-grouted ground anchors
These types of anchors use deferred multiple grouted injections to enlarge the grout body of straight shafted gravity grouted anchors.
Underreamed anchors
These types of grounding anchors comprise of grouted boreholes that include a series of extension bells or underreams. It is mainly used in tough to steady cohesive deposits.
Anchor load testing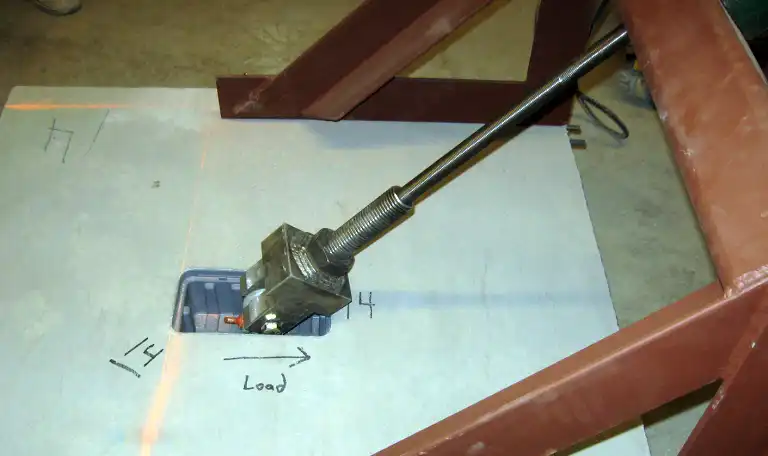 Every ground anchor has to undergo load testing to confirm its load capacity and load distortion behavior before installation. The main earth anchor tests are as follows.
Performance tests – this test involves incremental loading and unloading of a production anchor. It is used to prove the anchors load capacity, load deformation behavior, recognize causes of anchor movements and verify that the actual unbounded length is equal to or greater than that assumed in the anchor design.
Proof tests – these tests involve a single load cycle and a load hold at the test load. The degree of the applied load is measured using the jack pressure gauge.
Extended creep tests – this is a long duration test that is used to evaluate creep deformations of anchors. The results of these tests are compared to the specified acceptance criteria to assess whether the ground anchor can be put into service.
Advantages of ground anchors
The utility pole guy wire anchors have established a lot of benefits in the construction of telecommunication poles, utility poles and the construction structures. They however have displayed other important advantages that may be considered when planning to buy the equipment. These advantages are as follows.
They execute excavations neatly to create large construction plan without using props in order to make mechanized excavations.
They help to hold high loads in poor ground conditions.
They are made from materials that are corrosion resistant thus providing long life durability.
They help in sustaining the earth retention.
They can be used in different soil conditions.
The ground anchors have a low environmental effect.
They can be used permanently in ports, road schemes, sports stadiums and dam development to provide maximum tensile support.
They are prone to thieves which provide security of the equipment used in power lines.
Disadvantages of ground anchors
It can only be installed or used by experienced professional engineers.
The execution of anchors would affect the land of surrounding construction works.
It is difficult to apply the earth anchors in weak soil and to instrument anchors with great depth.
Manufacturers of ground anchors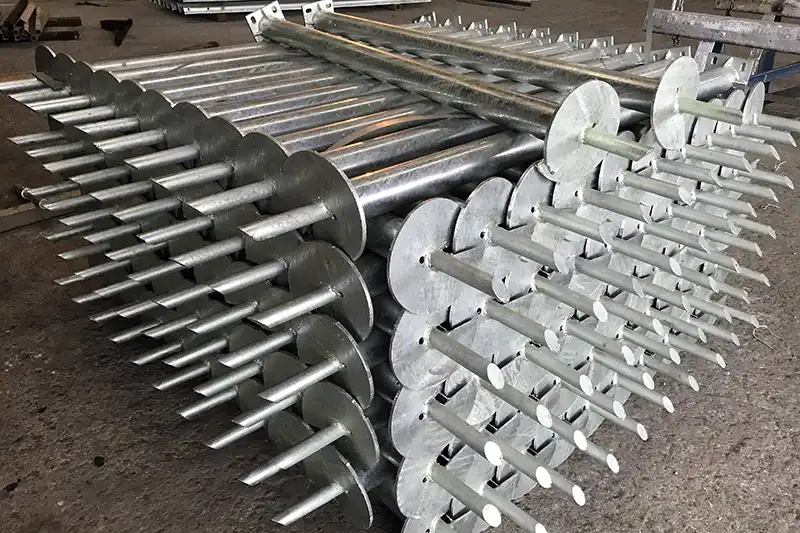 Knowing the manufacturer of the ground anchor you intend to buy is a crucial aspect of the hunting phase. Different manufacturers many produce different devices which may not align with the kind of work it is intended for since there are many manufacturers in the market. The top manufacturers of the earth anchors are mainly in the United States which is as discussed below.
The company was established in 2001 and is focused on designing and manufacturing earth anchors for commercial and residential markets.
Main products include:
Earth anchors accessories
Penetrators
Arrowhead cabled anchors
Bullet anchors
The company is set on designing and producing the arrowhead earth anchors and ground anchoring products and accessories for the military. Their anchor designs chain superior holding, ease of installation and reliability at an affordable cost.
Main products include:
Screw anchors
Arrowhead earth anchors
Rock anchors
Ground post anchors
Anchor accessories
The company is a leading producer of the helical guying and pole line hardware products for the electrical utility industry in USA for more than 40 years.
Main products include:
Distribution helical anchor
Solar panel helical foundation
Light pole foundation
Utility pipeline
Wind turbine helical foundation
This is a global supplier of hardware and components that support the telecommunication and power utility industries.
Main products include:
Earth anchors
Wall anchors
Pole line hardware
Aerial drop hardware
Grounding hardware
This company was established in 1994 and as focused on securing residential and commercial buildings, tower foundations and heavy equipment foundations.
Main products include:
Wall anchors
Helical anchors and piles
Lighting foundation anchors
TTF Power is a one-stop-shop for utility pole hardware fittings, transmission line accessories and power line construction equipment, providing our customers with the most extensive range of products in the industry, excellent value and knowledgeable service. Since 2000, the company has been a major power utility hardware supplier for the state grid in China.
Main products include: